I had never heard of Ambi Pur till a contest in Indiblogger came up. I immediately applied for the
sample to know the feel of it before I write my experience the road trip. Unfortunately I did not receive the sample till I completed my road trip and did receive the sample only after I submitted my blog. I could not experience the real feel of it before the last date for submission and had to write about the ambiance through my pure imagination. I had planned my road trip well in advance to write and submit before the closing date. My hopes were dashed but not my imagination. I must have failed to win the Samsung S4 which I was hoping to win. I wanted to win the prize for The Perfect Road Trip because it is my dream to possess that lovely Samsung S4. But was greatly disappointed and almost came to the conclusion of not participating in any of the blogger contest in future.
In the meantime Ambi Pur came out with another contest #FreshNHappy Experience in the begining of August 2013 and that too offered Samsung Galaxy S4. My hope for getting my dream phone rekindled again and immediately applied for the sample.
Alas ! The destiny of mine seems ordained not to have it.
Once again I did not receive the sample well in time before the the closing date i.e.30 August 2013.
Again I lost all hopes
However, I was in for a surprise. All of a sudden as if bolt from the blue I received an email from Indiblogger reminding me to submit my blog if I had received the sample late and had not submitted my blog. I had received my sample only in about second or last week of November event though the closing date was August 2013
If you haven't received your sample:
Unfortunately, when it comes to sending out hundreds of samples of which there is limited stock, we cannot guarantee that it reaches everyone. The courier companies have been proven to be so unreliable that 20% of our dispatches (on an average) need to be re-sent. Some courier companies don't deliver to certain locations, while others refuse to accept certain types of products. Some of them appear to only hire thieves as delivery boys. We do try re sending the same at least once; but once the campaign closes, there is no way for us to send any more samples. We realize that this prevents you from taking part in contests or being unable to try out a new product, and for no fault of your own. We're sorry about that.
We hope you understand, and that the next sample you apply for reaches you in time.
This message gave me again the hope of getting the Samsung S4. Even though directly. I have the chance of winning Flipkart vouchers so that I can buy my coveted phone
This message from Indiblogger had me put all my efforts: I felt Fresh and Happy and started writing my experience well in time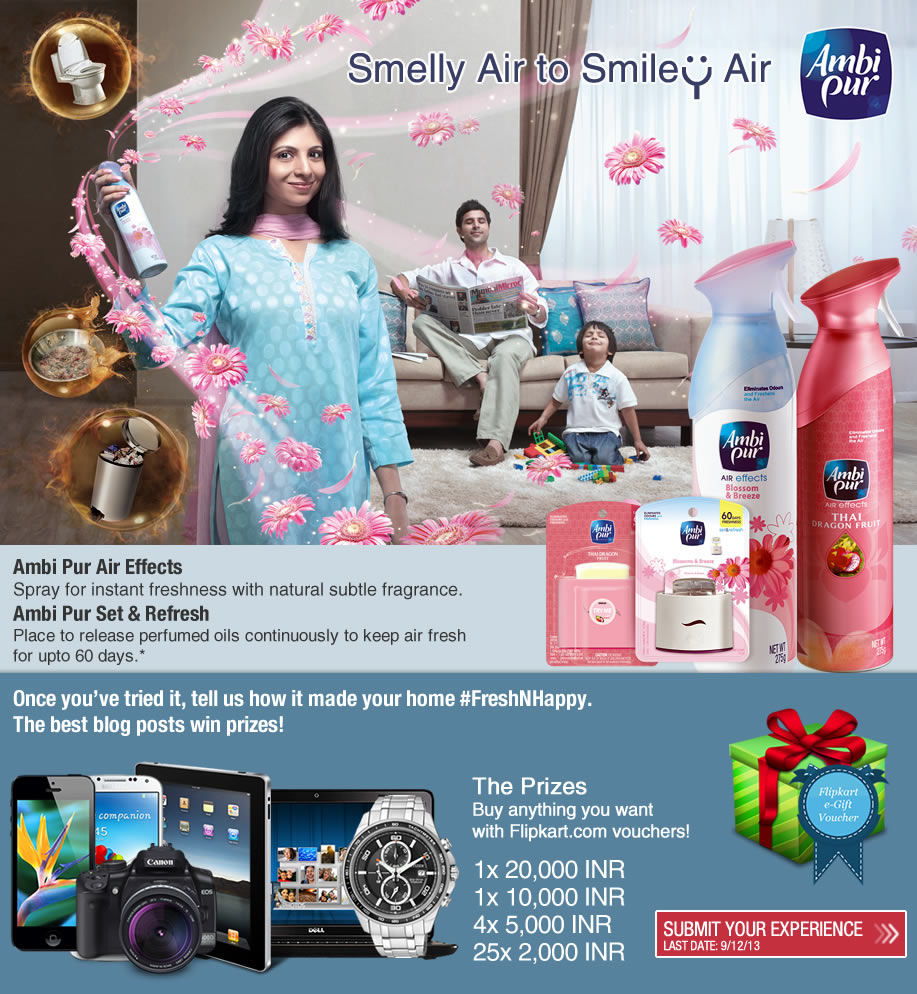 My imagination went flying high and taken my memories back to the olden day where it all started.
My imagination with the real feel of the fragrance of room freshener started flying high
I love all the fragrances and among all I love to take the tips from Ambi Pur and make full use of it to enjoy the life with more pleasantness than ever before
so it gave a new direction and freshness to my home ambiance that I missed so far..
I felt sorry for myself having not known about the Ambi Pur and I would have enjoyed the home life much more healthier and happier than ever before.
I started staying home far more than required and enjoyed it than spending time elsewhere after I started using Ambi Pur Room Freshener. Me and my family become total addict of Ambi Pur Room Freshener and I also started doing YOGA along with my wife to take a deep breath together so as to enjoy the freshness also together.
I felt like rewarding my wife more and more with gifts for making our room remain fresh with different fragrances all through the month. I felt the amount spent on more gifts are well spent to keep the home atmosphere far more healthier by using Ambi Pur Room Freshener which will and had reduced my medical expenditure.
Many a time I used to miss my breakfast before leaving office and after started using Ambi Pur Room Freshener I never left home without having breakfast.
I started staying home most of the time and immediately after finishing my office work instead of spending time with friends with chit chat,longing to go home grew louder and louder my wife saw my love towards are increasing day by day the way Ambi Pur Room Freshener kept the fragrance giving all the freshness and our love towards each other remained giving freshness all the time I felt like showing my love in an unique way
The more time I spend home rekindled our old memories and kept looking at the old photo albums again and again together and recollected the old memories spent outside our home seen together inside our home now
Now a days food started tasting better than ever before and outings have become minimal and spending time together at home become more and more frequent.
Romance started brewing again passing all the 7 year itches and we thought we are back to our teens.
NOW FAMILY COMES FIRST AND EVERYTHING IS NEXT- THANKS TO AMBI PUR.
I am lending my helping hand to my wife and she enjoys my increasing presence at home.
This blog is written specifically to participate in the Ambi Pur Contest - Smelly Air to Smiley Air with the link connected to:
https://www.facebook.com/AmbiPurIndia
.